Car News
Next-gen Audi Q3 to be unveiled on July 25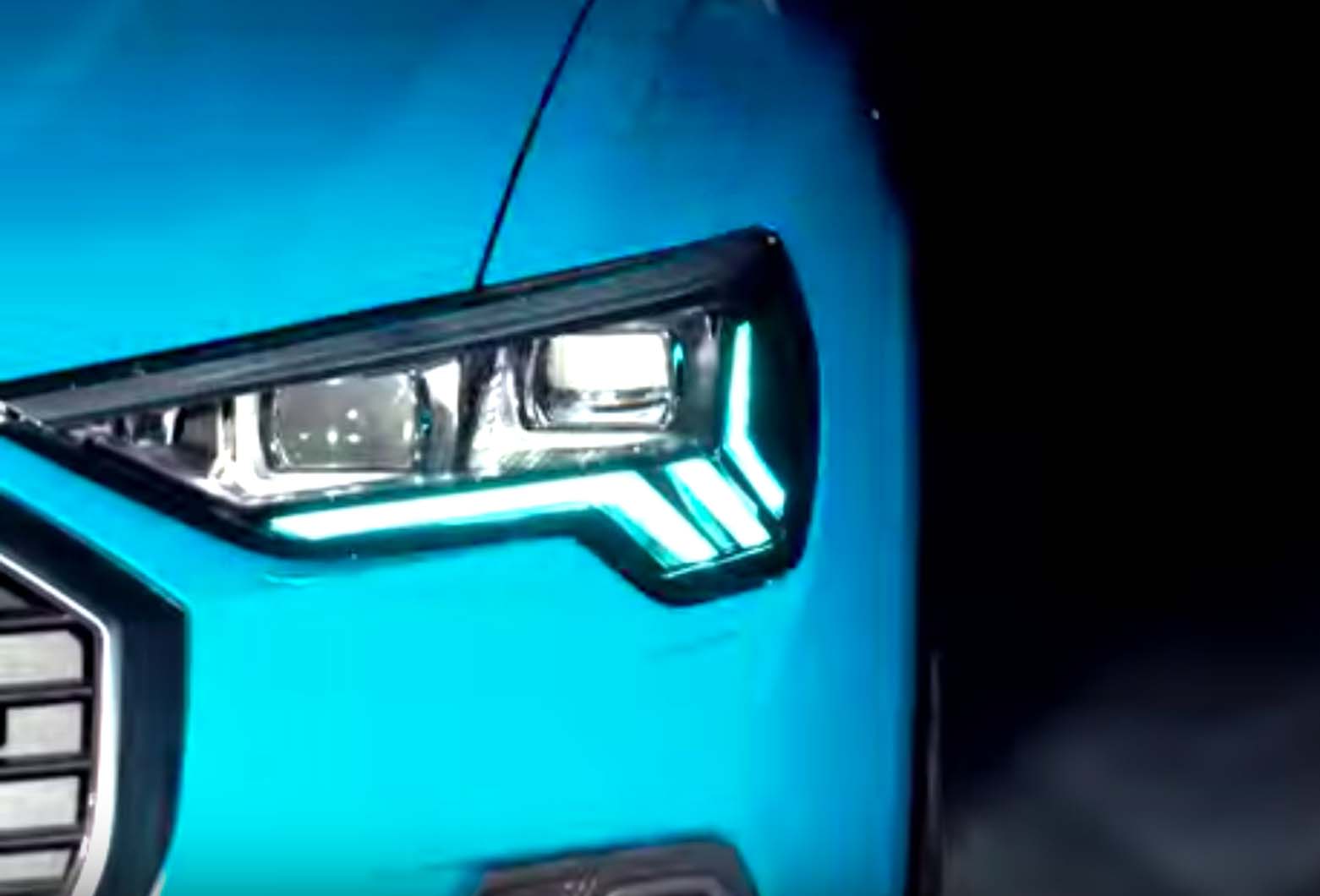 23rd Jul 2018 6:18 pm
New Audi Q3 is longer and wider than the outgoing model.
Audi is all set to unveil the all-new India-bound Q3 SUV on July 25, 2018. The company has previewed the new SUV via a small teaser video.
The second-generation SUV will rival the BMW X1 and the Volvo XC40 in our market. The new video shows the Q3 in a darkened studio, with flashes of light cascading across the bodywork. Although it doesn't reveal the full outline, we can see several key details, including an evolved version of Audi's octagonal front grille and a Q8-inspired LED light signature. More muscular bodywork can also be seen, but the video doesn't offer any shots of the SUV's rear end.
The interior design is not shown, either. The only cabin shot in the video is of a colour-changing LED backlit badge. The new model significantly moves the game forward from the six-year-old outgoing car. The new-gen car will feature the latest version of Audi's MMI infotainment system and offer the brand-new Virtual Cockpit s an option.
The next-generation Q3 has new underpinnings, a roomier interior and contemporary electric architecture supporting many of Audi's latest driver-assist systems. The changes in the new Q3 are so extensive that sources call it a "comprehensive re-engineering". The Q3 has grown, in order to distance itself from the Q2 – its cheaper and smaller sibling sold overseas. Nothing is official yet, but sources suggest its length extends to around 4,450mm and its width beyond 1,860mm — a dimensional increase of 60mm and 30mm, respectively.
In comparison, the Q2 measures 4,190mm long and 1,790mm wide, while the recently launched second-gen Q5 is 4,660mm long and 1,890mm wide.
The new Q3 will be based on the VW Group's widely used MQB platform and fitted with a 1.5-litre four-cylinder petrol engine that puts out 130hp. The car is claimed to have shed up to 50kg over the current model (which sits on older PQ35 underpinnings dating back to the second-generation A3 of 2003). This should bring the planned front-wheel drive entry-level Q3, down to less than 1350kg, in spite of its increase in size.
In addition to being lighter, the new MQB architecture will also give the new Q3 added structural integrity. Audi insiders cite a significant improvement in static and dynamic rigidity as being crucial to enhancements in the isolation of vibrations and the lowering of overall noise levels — factors that promise to make this car a more adept long-distance proposition.
The car receives more distinctive styling than today's six-year-old model. Its prominent eight-corner single-frame grille, thin angular headlights with LED graphics and a heavily structured bumper assembly dominate its front end.
Further back, the new model has larger wheelhouses, a more pronounced wheel-arch flaring, door-mounted mirrors and a more defined shoulder line along the flanks. Its longer wheelbase – which is said to have grown by 50mm to 2,650mm – also accommodates for slightly longer doors. The new Q3's rear appears to eschew the clamshell-style tailgate for a simpler (and cheaper-to-produce) aperture.
Inside, the Q3 receives a newly designed interior with a dashboard which is heavily influenced by the one seen in the latest A3. Its longer wheelbase liberates rear legroom and adds width providing greater shoulder room in front and rear, alike. The car is described as being significantly more spacious than its predecessor. A slightly longer rear overhang claims to add 20 litres to its boot capacity – a total of 440 litres.
Among the Q3's more upmarket features is be Audi's Virtual Cockpit display with HD graphics, a head-up display unit, a 9.2-inch touchscreen infotainment system, wireless smartphone charging and a full suite of connectivity functions with Apple CarPlay and Android Auto support.
The new Q3 will offer a variety of driveline combinations, including front-wheel and four-wheel drive in combination with either a six-speed manual or seven-speed automatic dual-clutch gearbox.
Other petrol engines sold globally will include a new turbocharged 1.5-litre four-cylinder unit. This joins the Q3 line-up as a replacement for the turbocharged 1.4-litre four-cylinder engine, likely offering two states of tune at 130hp and 150hp. Also planned (though not expected to feature in every market) is an updated version of Audi's turbocharged 2.0-litre four-cylinder engine, which delivers 251hp.
Despite the uncertainty surrounding the future of diesel, Audi is sticking to its plans to launch the upcoming Q3 with a turbocharged 2.0-litre four-cylinder common rail engine in up to three states of tune: 150hp, 190hp and 240hp. All will feature an SCR filter and AdBlue injection for Euro 6 compliance.
Unlikely to be seen at launch is the plug-in hybrid version of the car that will combine the turbocharged 1.5-litre four-cylinder petrol engine with an electric motor. This will be an updated version of the VW Group's modular plug-in hybrid system, claimed to provide a combined output of more than 203hp and an electric range of up to 50km at a speed of up to 130kph.
Audi sources involved in the engineering of the new car also confirm that the company is working on an electric version of the second-gen Q3 as part of the company's plans to meet China's New-Energy Vehicle regulations. Expect the new Audi Q3 to come to India sometime next year.
Also see:
2018 Audi Q3, Q7 Design Editions launched
Read Original Article